Microsoft Design
Content Reel
Create your own image content, plus more ways to apply text and images to your design.
Need content for your layouts?
Content Reel is a Figma plugin that helps you easily pull text strings, avatars, and icons into your designs. Select one or more layers in your design, then choose a content type from the Content Reel palette to apply.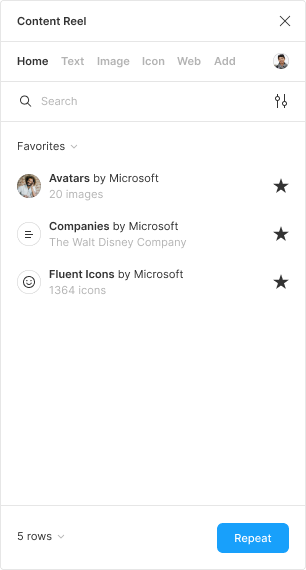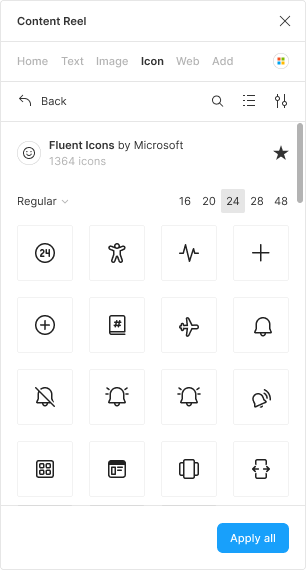 Create your own text content
You can now apply text strings in any order. Choose from original, random, ascending or descending from the drop down menu. If you previously created text content, it will default to private. To share it publically, navigate to 'Add', select the text category and edit your preference from there.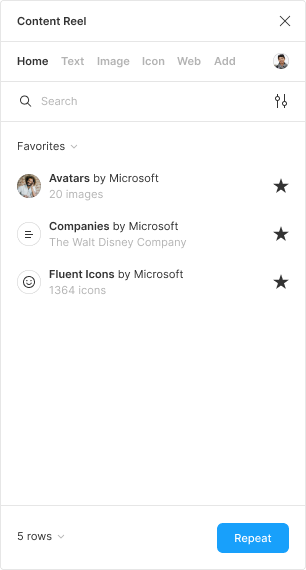 Apply custom image content
Navigate to 'Add' and click 'Create new'. From there, select 'New image' content type. This will allow you to upload up to 20 images in PNG or JPG format that you can use to create a collection to share with others, or use daily on your own.
Now with more icon options!
Choose between glyph or SVG format and adjust your icon size as needed. Drag and drop icons directly into your Figma layouts. Search for specific metaphors within fonts, whillst enjoying access to the latest icon offerings from the team at Microsoft Design.